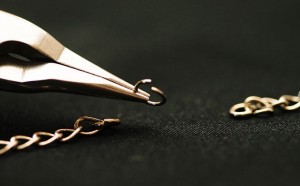 Have that favorite piece you used to love to wear but broke and now just sits there?  Or perhaps you have a family air loom that needs to be adjusted or fixed without the worries of causing more problems?
Well, here at the studio all those worries will be resolved!
Send it my way and lets get that piece back on you again!
Contact me, send a photo of the piece you need worked on and what you need to have done to it.  If it is a family air loom, I highly suggest sending it with a tracking number and insurance and I will return it in the same shipping method.
Alternatively, come just bring it on over to the studio and we'll get it fixed!